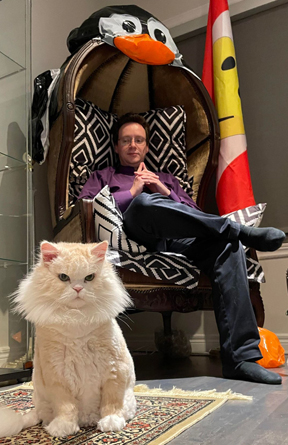 His Imperial Majesty Doctor Eric Lis has been called the only man ever to have his writings published in the Journal of the Canadian Academy of Child and Adolescent Psychiatry and Weird Tales Magazine in the same year; he would say that this is not strictly accurate, but not for the reasons you might think. Dr. Lis has ruled the Aerican Empire since its inception in 1987 and his subsequent election to the position of Emperor. He was instrumental in the founding of Silinism and is a Discordian pope appointed by Robert Anton Wilson himself. Under Dr. Lis' moderately-wise and mostly-benevolent rule, Aerica has grown and prospered, becoming one of the most well-known micronations in the world.
Currently, Dr. Lis is psychiatrist practicing in Montreal, Canada. He operates a private practice and maintains affiliations with the McGill University Health Centre and the Sir Mortimer B. Davis Jewish General Hospital. He obtained his bachelor's degree in psychology with honours and distinction from Concordia University in 2005, writing two research theses on the topics of impression formation and manipulative behaviour. He studied medicine at McGill University, where his interest in mental health continued with his work with the suicide prevention Emergency Room Follow-up Team at the Montreal Children's Hospital and his publication of several papers on borderline personality disorder and suicidality, before completing his residency in psychiatry at McGill and becoming a Fellow of the Royal College of Physicians of Canada. Dr. Lis is the director of the McGill University Psychiatry Perceptions of Emerging Technologies Labs, which conducts research on how people perceive, use, and fear advances in technology, particularly communications technology and social media. His background in psychology and psychiatry makes him one of the few micronationalists alive able to make an educated and medically-grounded assertion that while many of his hobbies are odd or unusual, he is completely sane.
Dr. Lis is an avid though amateur writer and, in addition to peer-reviewed academic research, he has published several short stories and one role-playing game rule book.
Selected publications:
Academic:

Lis E, Greenfield B, Henry M, et al. Neuroimaging and genetics of borderline personality disorder: a review. J Psychiatry Neurosci 2007;32(3):162-73.
Greenfield B, Henry M, Weiss M, et al. Previously suicidal adolescents: predictors of six-month outcome. J Can Acad Child Adolesc Psychiatry 2008;17(4):197-201.
Paris J & Lis E. Can sociocultural and historical mechanisms influence the development of borderline personality disorder?. Transcult Psychiatry 2013;50(1):140-51.
Greenfield B, Henry M, Lis E, et al. Correlates, stability and predictors of borderline personality disorder among previously suicidal youth. Eur Child Adolesc Psychiatry 24(4):397-406. Epub 2014 Aug 2.
Lis E. His Majesty's Psychosis: the Case of Emperor Joshua Norton. Acad Psychiatry. 2015;39(2):181-5. Epub 2014 Aug 6.
Lis E, Chiniara C, et al. Psychiatrists' Perceptions of Role-Playing Games. Psychiatr Q. 86(3):381-4. Epub 2015 Jan 15.
Lis E, Wood MA, et al. Psychiatrists' Perceptions of Facebook and Other Social Media. Psychiatr Q. 86(4):597-602. Epub 2015 Mar 20.
Lis E, Chiniara C, et al. Psychiatrists' Perceptions of World of Warcraft and Other MMORPGs. Psychiatr Q. 87(2):323-327. Epub 2015 Aug 15.
Wood MA, Bukowski W, Lis E. The Digital Self: How Social Media Serves as a Setting That Shapes Youth's Emotional Experiences. Adolescent Res Rev. 1:163-173. Epub 2015 Sept 04.
Lis E, Myhr G. The Effect of Borderline Personality Pathology on Outcome of Cognitive Behavior Therapy. J Psychiatr Pract. 2016;22:270-82.
Lis E & Tuineag M. Development and Dark Wizards: Teaching Psychopathology with Lord Voldemort. Acad Psychiatry. 2017;41:285-288. Epub 2017 Feb 23.
Ben-Ezra M, Lis E, et al. Social Workers' Perceptions of Role Playing Games. Psychiatr Q. 2017 Aug 15. [Epub ahead of print]
El-Majzoub S, Behzadi A, Lis E, Moussaoui G, Yu C, Segal M, Looper KJ, Chachamovich E, Rej S. Self-reported psychiatric symptoms associated with anticipated close psychiatry follow-up and/or hospitalization status in geriatric psychiatry patients: a preliminary study. Psychogeriatrics. 2018;18(1):74-76. Epub 2017 Jul 26.
Fiction:
Lis E. My True Lovecraft Gave To Me. Weird Tales 2008;352:78-81.
Lis E. A Contract Without Loopholes. Weird Tales 2011;358:58-65.
Lis E. (2012). The Day Pateon Fnordseeker Gave Up Drinking. In M. O. Varhola (Ed.), Swords of Kos: Hekaton (pp. 208-213). Spring Branch, TX: Skirmisher Publishing LLC.
Lis E. They Shall Not Pass. On Spec 2013;25:43-53.
Non-Fiction:
Lis E. (2012). Insults & Injuries: A Role-Playing Game Sourcebook for Medical Maladies. United States: Skirmisher Publishing LLC.
Second Edition published September 2015.
Eric Lis can be contacted via the Contact Us form.
---
Back to Aerica's main page
Back to the Government Contacts page